ARK: Fear Evolved
Event
ARK: Fear Evolved is a Halloween-themed event in ARK: Survival Evolved. ARK: Fear Evolved returned in 2016 and added new Skins and Bone Costumes to collect, in addition to the returning skins from the original event.
Features
Environment
The leaves are changed to brown and orange, giving The Island a fall feeling.
Some creatures that usually only appear in caves, the Araneomorphus and Onychonycteris, appear above ground.
Nights last longer than normal.
The climate is somewhat colder than normal.
Items
Creatures
Skins
Witch Hat Skin
Dino Witch Hat Skin
DodoRex Mask Skin
DodoWyvern Mask Skin (ARK: Scorched Earth)
Bronto Bone Costume
Carno Bone Costume
Jerboa Bone Costume
Giganotosaurus Bone Costume
Quetzalcoatlus Bone Costume
Raptor Bone Costume
Rex Bone Costume
Stego Bone Costume
Trike Bone Costume
Wyvern Bone Costume
Gallery
Videos
Spotlight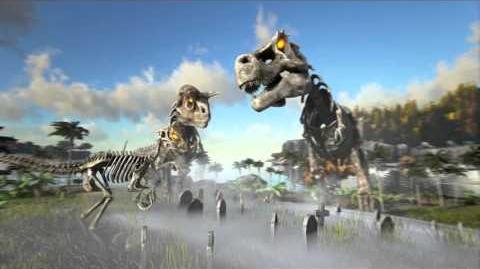 Ad blocker interference detected!
Wikia is a free-to-use site that makes money from advertising. We have a modified experience for viewers using ad blockers

Wikia is not accessible if you've made further modifications. Remove the custom ad blocker rule(s) and the page will load as expected.