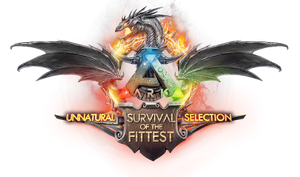 Survival of the Fittest is a stand-alone Multiplayer Online Survival Arena (MOSA) spin-off of ARK: Survival Evolved, initially launched as a total conversion mod and tournament with Patch 200, before eventually being launched as a stand-alone spin-off game on March 15, 2016.
Total Conversion
With it's release Survival of the Fittest now allows Mod Makers to create complete and total conversions to the game. SotF changes the map to introduce more pure PVP elements as opposed to the basic vanilla map. Crafting and engrams are changed, resources and tools are limited and Dinos rain from the sky.
Players and Tribes must work together to be the last human(s) alive similar to the popular book/movie series The Hunger Games.
Tournament
The new mode was celebrated with a fierce battle on August 1, 2015 in which 70 survivors fought to the death for their lives. There were 35 teams of 2 competitors each, where the final tribe standing was awarded with a Grand Prized of $20,000 together with bonus gaming gear from Logitech and Gunnar Optiks! $10,000 and $5,000 will be sent for the second and third place. The top three tribes in tournament events are also awarded in-game Trophies that can be displayed on the Trophy Base.
A second tournament called Unnatural Selection, which featured four man tribes, six new Evolution Events, and the first appearance of the Dragon, took place on September 2, 2015. A third tournament called The Last Stand, which featured six man tribes and all three revealed bosses, the Broodmother, Dragon, and Megapithecus, took place on October 24, 2015. A fourth charity tournament called Naughty or Nice, which featured two one hundred man tribes and a holiday theme with the prize money going to charity, took place on December 28, 2015.
Ad blocker interference detected!
Wikia is a free-to-use site that makes money from advertising. We have a modified experience for viewers using ad blockers

Wikia is not accessible if you've made further modifications. Remove the custom ad blocker rule(s) and the page will load as expected.