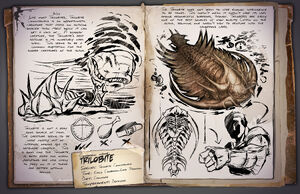 "
Wild

Like most Trilobites, Trilobite Conchadurus is an opportunistic carnivore that feeds on anything smaller than itself which it can get a hold of. A sluggish creature, the Trilobite's best defense is its incredibly hard shell. This seems to be a common adaptation for the slower creatures of the island.

Trilobite is not a very good source of food. The creature seems to be made mostly out of internal organs and its defensive carapace. This is good for the Trilobite, as both river and ocean predators are less likely to prey on it if better options are around.

Domesticated

The Trilobite does not seem to have enough intelligence to be tamed. This doesn't mean it doesn't have its uses among resourceful survivors, though. Trilobites are easily one of the best sources of high quality Chitin on the island, assuming one doesn't wish to venture into the dangerous caves.

"
 

— The Dossier
The Trilobite is a small carnivorous aquatic invertebrate found on the Ark.
Gameplay Images
Ad blocker interference detected!
Wikia is a free-to-use site that makes money from advertising. We have a modified experience for viewers using ad blockers

Wikia is not accessible if you've made further modifications. Remove the custom ad blocker rule(s) and the page will load as expected.